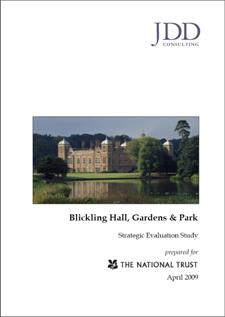 In April 2009 JDD completed its Strategic Evaluation Study for Blickling Hall in Norfolk.
JDD's study was designed to cover all aspects of the visitor experience and facilities, and has identified new ways to deliver an excellent day out for the visitors who come to the house and gardens each year. It also considers the needs of those who come for functions, special events or just to enjoy the fresh air of the 4,700 acre estate.
We made a holistic, outside-in assessment of the house, garden and park (each magnificent in its own way) and identified ways in which a day spent at Blickling could be more engaging - particularly for the lesser-represented segments of the audience like Out-and-Abouts and Explorer Families.
Our report has identified a progressive reconfiguration of the visitor facilities as well as changes to the presentation of the house, garden and park. It's been set out in phases so that the 'quick wins' can be done first and the heavier moves undertaken later. It's backed up by a full financial analysis identifying the incremental revenue opportunity arising from increased footfall, particularly in the shoulder months.
The house at Blickling dates from the early 17th century and, despite many modifications, maintains its exotic Jacobean personality. Famed for its long gallery, fine tapestries and paintings, it also houses the Trust's most extensive antiquarian library.It was Lord Lothian, Blickling's owner in the 1930s, who championed new legislation by which houses and estates could pass into National Trust ownership. By virtue of this legislation, much of the UK's rural heritage has been conserved. The project thus presents an opportunity to celebrate and showcase the Trust's work in managing major estates for the benefit of people and the environment.
The project was won through a process of competitive tender. JDD specialises in historic houses, parks and gardens and includes amongst its clients The Crown Estate, The Environment Agency, The National Trust and a number of privately owned Historic Houses.