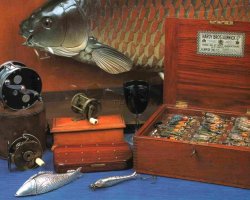 In 2007 JDD Consulting were appointed lead project consultants to The National Angling Museum. The project aims to create the UK's first truly national collection of angling-related artefacts and documents and will have a strong educational focus.
Auctioneer and collector Neil Freeman, one of the initiators of the project, said "The National Angling Museum will be a centre of international stature - on a par with the angling museums of USA, Japan, Canada and New Zealand - but showcasing the UK's historic and continuing contribution and commitment to this truly international pastime."
Angling is one of the oldest and most popular participant sports - with over 4 million participants in the UK. Although one of the more contemplative pastimes, anglers play an active role in nature conservation - especially the aquatic environment of lakes, rivers, streams, estuaries and the coastline.
JDD Consultants compiled the initial prospectus to initiate fundraising, and have been evaluating location options for the museum. Negotiations are under way for an iconic home - "a place that breathes fishing" according to Neil Freeman. However, recognising the diverse genres of the sport across the spectrum of game, coarse and sea fishing, it is possible that the museum will have more than one home - making it widely accessible and setting each branch of the sport in its most appropriate context.