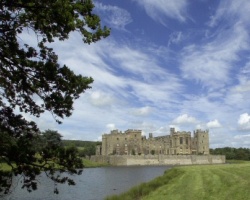 JDD was commissioned in Spring 2008 by Raby Castle Estates to look in detail at the castle's retail operation, to see how this could better contribute to the Estate's business enterprises.
One of the largest and most impressive of English medieval castles, Raby Castle, in County Durham, Northumbria, is a wonderful feast of towers, turrets, embattled walls, interiors and artworks from the Medieval, Regency and Victorian periods.
Despite its powerful exterior of towers and fortifications, Raby houses a fabulous art collection and splendid interiors.
Treasures include an important collection of Meissen porcelain, tapestries, furnishings and paintings by leading artists such as Munnings, De Hooch, Teniers, Van Dyck and Reynolds.
JDD's study project was offered under a special initiative through the Historic Houses Association. The study has helped to set a number of benchmarks for different aspects of the retail business and has indicated various ways in which the enterprise can be optimised in future years.