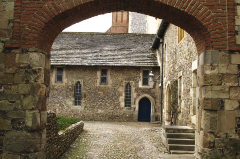 July 2012 - In the summer of 2012, JDD Consulting was invited to submit a short study for Winchester College.

The college was founded in 1392 and over the centuries it has acquired a rich collection of treasures from a variety of provenances. They have been stored and displayed in various secure locations, and the plan is now to make them accessible to a wider public, while preserving their security and their primary use as teaching aids.

JDD's study investigated various financial scenarios for the future display area, occupying part of the original medieval buildings, which thanks to the design skills of the founder, William of Wykeham, offer a unique combination of security and accessibility.

Rachel Wragg, Director of the Warden's Stables Museum Project at Winchester College, said "We were very pleased at the way JDD responded so quickly to our needs, and produced the business plan we needed to make the project go ahead".